There are plenty of things to do in Wye Valley in a relatively small area, making it perfect for a weekend getaway or a longer week trip if you're planning more walks and outdoor activities in the area.
The Wye Valley is an Area of Outstanding Natural Beauty in the UK which is straddling the border between England and Wales.
This area is great for family things to do in Wye Valley. With activities for the whole family, plenty of accommodation options and short distances between sights.
Looking for places to stay in Wye Valley?
Check out these options for places to stay in the Wye Valley area.
If you'd prefer a self-catered cottage for your Wye Valley accommodation, Vrbo has some great affordable options which you can check out here.
Or check out these Wales staycation ideas for more inspiration.
Wye Valley: What to do on your trip
Go canoeing or kayaking on the River Wye
While water activities might not be for everyone, Wye Valley kayaking or canoeing is the perfect place to give these water sports activities a try for the first time if it's something you've always wanted to do.
The river is extremely calm and gently flowing. Its popularity with kayaks and canoes means there are plenty of launch and landing points to stop and have a picnic, stretch your legs and take in the sights.
Most canoe or kayaking companies offer full day or half-day rentals. There are also options for 2-hour rentals or multiple day rentals if you'd like to do overnight stops on the way.
I highly recommend Ultimate Canoe and Kayak, they have loads of different trip lengths and types to suit your trip and the time you have available and they'll be able to help you pick the best one for you.
Wye Canoes is also another great option if you're staying in Symonds Yat or nearby. Being centrally located on the river route is perfect if you want to explore this area from the water.
If you're planning Wye River things to do, check out the river map. The Wye Valley canoeing route is split into the upper river, middle river and lower river. This is ideal for wherever you're staying in the Valley because there are water activities nearby so you can enjoy the area.
The upper river from the beautiful Hay on Wye area is popular, so is the middle-lower river from Ross-on-Wye to Monmouth. Around Symonds Yat is also a great section of the river, either for a two-day trip or portions of it for a one day or half-day rental.
If you're planning a full day or two days, don't miss stops Wye Valley pub stops at Ye Old Ferrie Inn and the Saracens Head Inn. Both pubs have landing points outside, making them perfect for some light refreshment or to retire for the evening!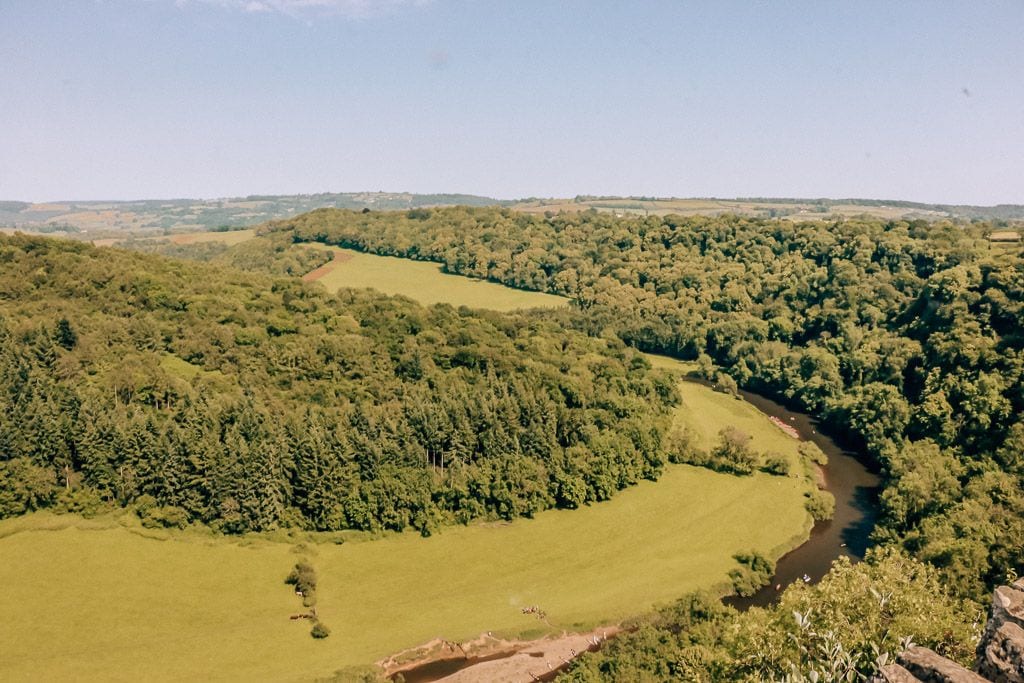 Visit Symonds Yat
As well as being a great starting point for canoeing or kayaking on the River Wye, Symonds Yat is a village on the river in Herefordshire which is great to visit.
Check out the nearby King Arthur's Cave, great for kids to explore too. Take a walk in the surrounding White Rocks Nature Reserve and Woodside Nature Reserve.
There's also a fun hedge maze for kids and for adults! Don't miss Ye Old Ferrie Inn which is a beautiful pub right on the river, perfect for an afternoon meal and drinks or a stop for refreshments on your kayaking route. It also has convenient landing points right outside!
Climb Yat Rock
One of the best Wye Valley places to visit with incredible views of the area. You can easily get to Yat Rock on a nice short walk from the Symonds Yat Rock car park. It is a bit uphill but the path is level and accessible.
There are a couple of viewpoints to see the valley and the river from. One is slightly north of the car park and the other is slightly south.
Note that the car park is pay and display. There are also toilet facilities, refreshments and picnic benches if you want to drive here and enjoy nature a bit longer.
Discover the bookshops at Hay on Wye
Hay-on-Wye is famous for the annual Hay Festival which celebrates all things literature.
Hay-on-Wye is a book lovers paradise, with 20 bookshops in this small market town. From huge bookstores with shelves to get lost in, to specialist mystery thriller bookshops or history bookstores, there are books for everyone.
Visiting during the festival is a must for book lovers, but even at other times of year, you can get a sense of literary pride in this town.
Spend some time exploring the book stores and cosy coffee shops. Also check out the many events, talks and shows that the bookstores put on for their patrons.
Wye Valley hiking at Biblins Suspension Bridge
This is a great option for lesser known places to visit Wye Valley has to offer.
This is one of the great Wye Valley attractions to include on any walks you're doing in the valley. The Wye Valley walk from Symonds Yat to the bridge is a nice and easy one along the river and the bridge offers the opportunity to cross the river and walk back up the other side.
Once you're back at Symonds Yat, you can use the Hand-Pulled Ferry for a unique way to cross back over the river!
Puzzlewood
If you're planning a longer trip and looking for things to do in the Forest of Dean and Wye Valley, Puzzlewood is a great option!
Located near Coleford and just outside the Wye Valley AONB, Puzzlewood is just a short 25 minute drive from Symonds Yat or 20 minutes from Monmouth.
Puzzlewood is a completely unique, atmospheric and magical experience as you walk through the woods. The moss-covered trees and unique rock formations really feels like you're in a fantasy land.
It's no surprise that Puzzlewood has been used as a filming location for many famous films like Star Wars: The Force Awakens, The Secret Garden, The Huntsman: Winter's War, Merlin, Doctor Who and more!
Following the winding, twisting paths and wooden walkways between rocky cliffs and towering trees. It's so beautiful to explore and fun for families too.
Adult tickets are £7 and family tickets are £25. Tickets can be bought here.
Discover Monmouth and the Monnow Bridge
Monmouth is located in Wales, just a couple of miles from the border with England.
It's a lovely historic town, with a colourful high street full of local shops and boutiques. Take a stroll down the high street and check out the local businesses, buy some souvenirs and enjoy a coffee as you stroll down to the Monnow Bridge.
From the historic bridge and gatehouse, you can walk along the River Monnow to meet up with the River Wye again.
Wye Valley Tintern Abbey
If you want to add a bit of history to your list of Wye Valley things to do, don't miss Tintern Abbey.
Located further south in the Wye Valley Wales side of the river, the ruins of this Cistercian Abbey founded in 1131 are really a majestic sight to see.
You're able to wander in among the ruins and admire this stunning Gothic piece of architecture.
The setting itself is so picturesque. The Anchor Inn pub opposite the site is great to have a spot of food or add it to your Wye Valley kayaking itinerary. You can dock at the pub and enjoy the Abbey right nearby.
Tickets to visit Tintern abbey can be purchased here.
Devil's Pulpit walk
The Devil's Pulpit Wye Valley walk is a great one to combine with your trip to Tintern Abbey. It offers you stunning views of the Abbey itself from the opposite side of the river on the Wye Valley England side!
You can walk across the fields from Tidenham Chase car park. Just make sure you have suitable footwear, particularly if the weather has been wet!
The views from the top are breathtaking.
See the incredible views at Eagle's Nest viewpoint
This is a great viewpoint for an interesting perspective of the Wye River bend in the South of the valley.
There are also a few walking options to get here, either enjoy the walk from Chepstow or you can park at the Wyndcliff car park and walk up to the viewpoint.
Look out for the two options for walking up, one has steps and one doesn't. There are a lot of steps up the cliff but the alternative is a rocky path without steps so it's up to you which is best!
The car park is free (correct at the time of writing).
Chepstow Castle
In the very south of the Wye Valley is the Welsh town of Chepstow.
Here you can visit the stunningly well-preserved Chepstow castle which dates from the 11th century.
Although the castle is in ruins, it is extremely well preserved and the information provided really helps to give you an idea of what it was like in its Norman heyday.
Tickets can be purchased online here.
Summary: Things to do in Wye Valley England
There are so many things to do in Wye Valley, what to do and see in a short time can feel difficult to plan for. But regardless of where you stay in the Wye Valley, hopefully this guide has given you an idea of how much there is to see in the area and plenty of options to suit you and your trip.
Liked this post? Pin it for later to help you plan your future trip!