Whether you're visiting for the day or passing through as part of a longer Wales road trip, a stop in the Welsh capital is a must-do if you're in Wales.
Plan your day trip to Cardiff with this Cardiff itinerary which follows exactly what we did during one day in Cardiff.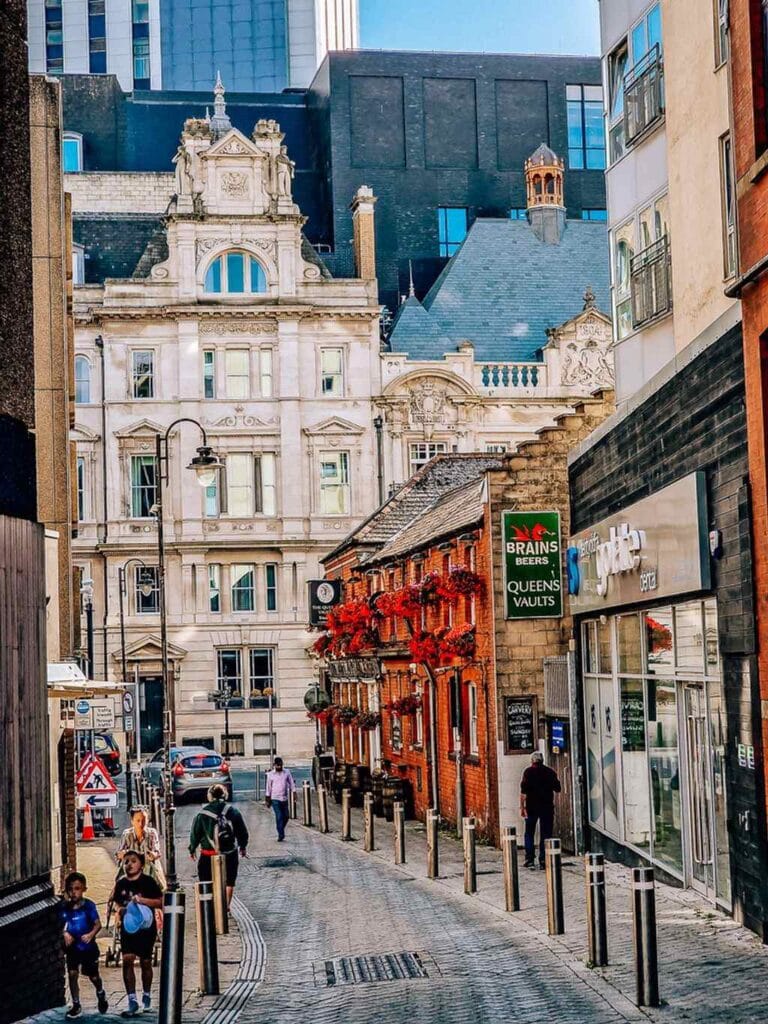 Disclosure: This post may contain affiliate links, which means we may receive a commission if you click a link and purchase something. While clicking these links won't cost you anything, they will help us to keep this site up and running! See the full disclosure policy for more details.
Cardiff day trip itinerary
Visit Cardiff Castle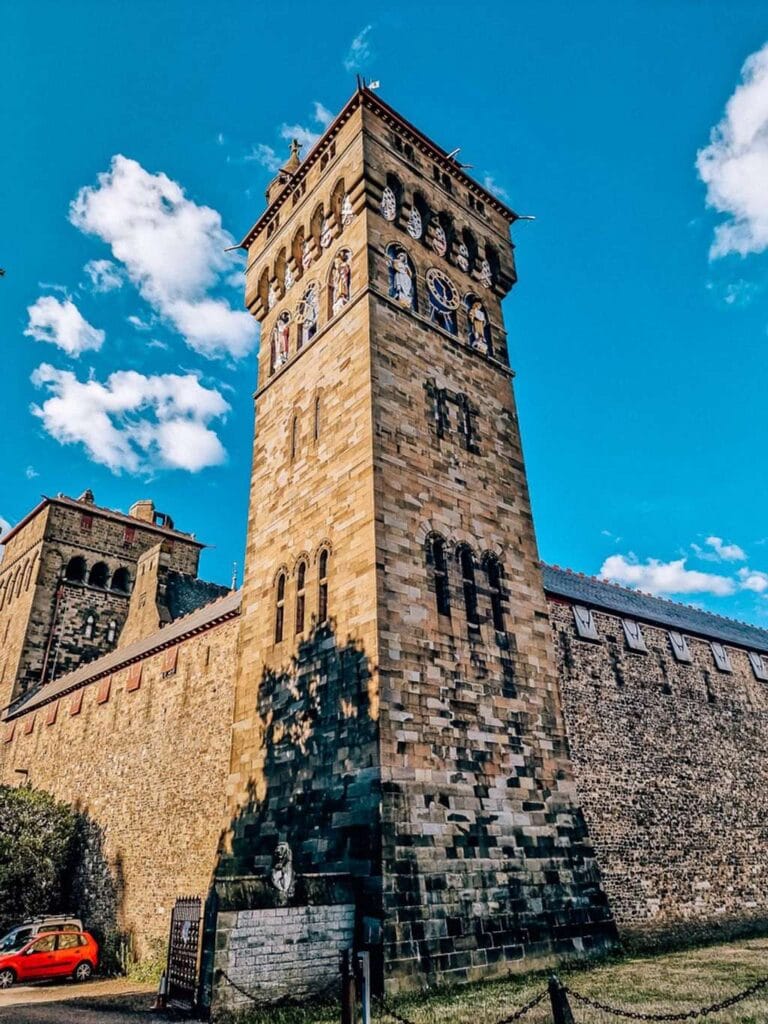 Start your day at Cardiff's most famous landmark – Cardiff Castle.
The fortified castle dominates the centre of the city and walking through the huge wooden doors is definitely dramatic, although behind the exterior walls doesn't have as much to see as we had expected to see!
But the castle itself sits on a large grassy mount and is very picturesque to see. You can learn about the castle as well as the city's history with the castle dating back over 2000 years.
Tickets cost £14.50 for adults and £10 for children.
Keep an eye on their website for your visit as they often have events such as Tournaments of the Knights, an outdoor cinema, Halloween themed events, an underground cinema, comedy shows and more.
Lunch at Cardiff Market
After a morning of exploring the castle, head over to the famous indoor Cardiff Market.
The historic Victorian market is also located in the city's Castle Quarter, so it's just a short walk from the castle to the market.
From household goods, to textiles to freshly baked bread and local cheeses, you'll find everything here in this unique shopping market.
The market itself has been trading since the 1700s and it's a thriving place that's full of life!
If you're looking for food options, the stalls available can change fairly regularly, but look out for options such as freshly baked pizza, vegan takeaway, thai street food, pasties and pastries and more!
Independent shopping in the arcades (or window shopping!)
Cardiff does have a thriving town centre with all the major chains, eateries, clothing brands and activities you'd expect from a major UK city.
However the city's shopping arcades, many dating back to the Victorian era, are really something to experience.
Most of the arcades are full of independent stores, small businesses and independent cafes or coffee shops, so you really get a feel for local businesses and interests in these arcades.
Here's a few Cardiff shopping arcades to check out:
Royal Arcade
Wyndham Arcade
High Street Arcade
Morgan Arcade
Don't miss Mrs Potts Chocolate House in Morgan Arcade for chocolate, coffee and more chocolate!
Also check out Wally's Delicatessen in Royal Arcade for some yummy deli treats.
Castle Coch
Technically Castle Coch is 20 minutes outside of Cardiff, however this is such a spectacular castle and a real South Wales hidden gem, that you should add it to your itinerary if you can!
Despite a castle sitting on this site since 1081, the fairytale version you see today was rebuilt in the 19th-century in spectacular style.
Complete with fairytale turrets, ornate decor inside and a colourful red courtyard, this is a beautiful castle to explore as well as learn about the history of.
Included in your ticket is an audio guide to take you on your self-guided tour of the castle. Cross over the magnificent drawbridge, see the grand chambers, the religious prayer rooms and walk along the stone balconies.
Tickets cost £8.30 per adult and £5.50 for children.
There is also a cafe tea room and a shop inside.
If you're able to visit Cardiff's Castle Coch during your 1 day in Cardiff, we highly recommend it!
Parking is free on site.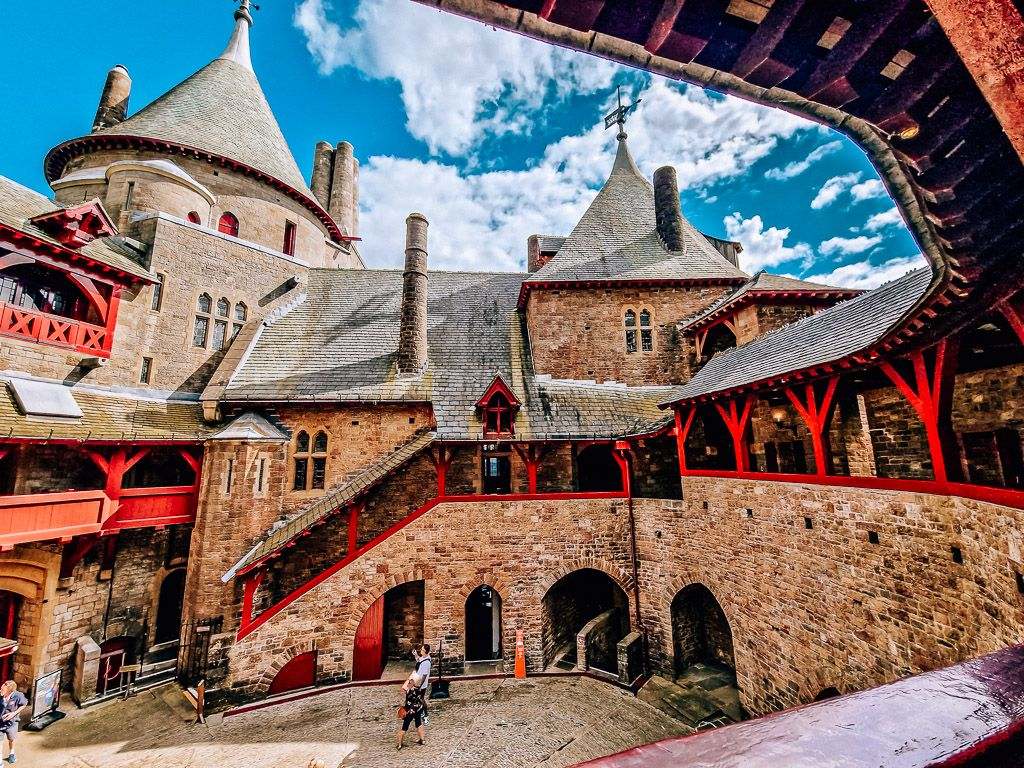 Walk along Cardiff Bay
Head back to the city and park up along the waterfront to take a stroll around Cardiff Bay.
See the vibrant redbrick Pierhead Building and the Welsh Parliament situated right next to it.
You'll of course see the huge Ferris wheel too which might be a popular option if you're in Cardiff with family and young children!
You'll also see the famous Wales Millennium Centre, an events centre with a bronze exterior covered in writing.
Wander further around the bay to see the views of Penarth, and see the unique Norwegian Church and Arts Centre – a slice of Scandinavia in Cardiff!
There are quite a few eateries in this area too if you're taking the train from Cardiff Bay station, you might want to stay in this area prior to your train departing.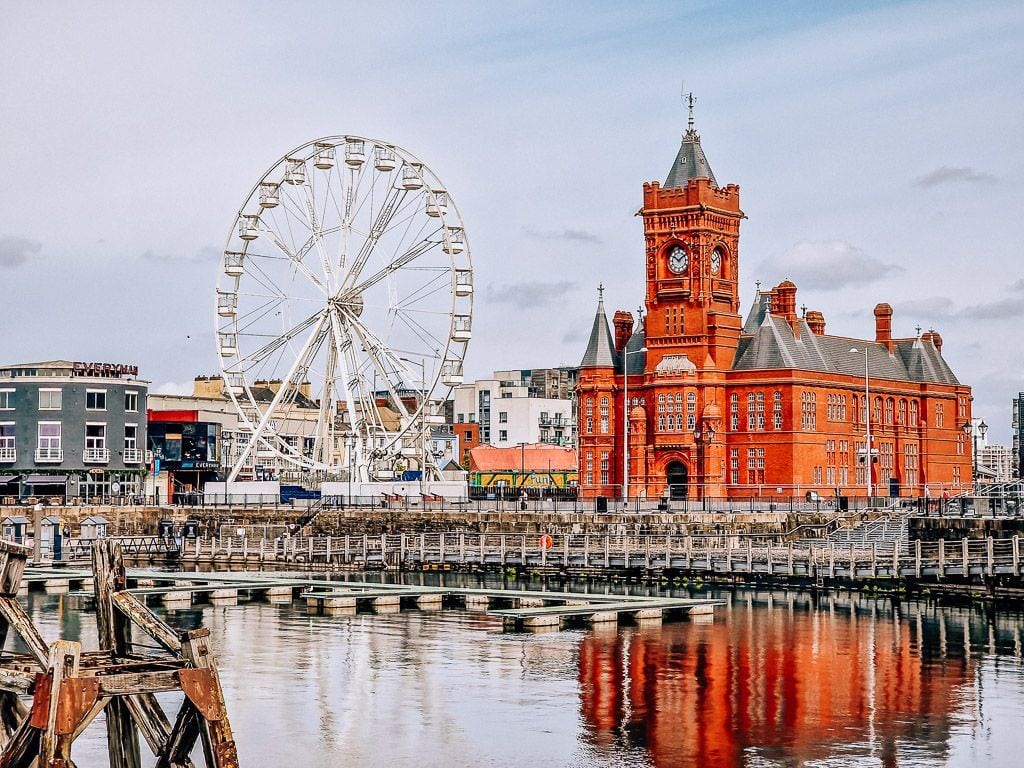 Dinner and drinks at Tiny Rebel
If you're looking for evening plans then head back to the Castle Quarter to have your pick of incredible restaurants, bars and eateries for dinner.
Tiny Rebel is a Welsh brewery with their main brewery based in Newport, however they have a taproom in Cardiff which serves their brilliant beers as well as some of the best burgers ever!
They have a great selection of dirty burgers available all of which come with fries, we struggled to pick just one each! The building itself is such a cool industrial and Victorian setting. Extra points for being directly across the road from the entrance to Cardiff's Principality stadium!
For al fresco dining, check out the food options on Church Street, with a beautiful view of the Church and umbrellas strung across the street, there are tapas, Indian street food and more down this road.
Cardiff evening drinks
If you're looking for more craft beer, make sure to check out Mad Dog Brewery Co for gluten free and vegan beer options. Also Brew Monster Tap House.
For live music in Cardiff and a great vibe, don't miss Fuel Rock Club.
Head of Steam is a great spot for some classic pub drinks and they have a nice outdoor area on Church Street during the summer.
Things to do in Cardiff in the rain
Let's face it, it's the UK and rain is inevitable more often than not!
So if you're looking for more indoor friendly activities during your Cardiff day trip, check out these Cardiff activities for some ideas:
National Museum Cardiff
See an event at Cardiff Castle such as the underground cinema or comedy show
Museum of Cardiff
Techniquest science museum
Health Park Miniature Railway
Tour the Principality stadium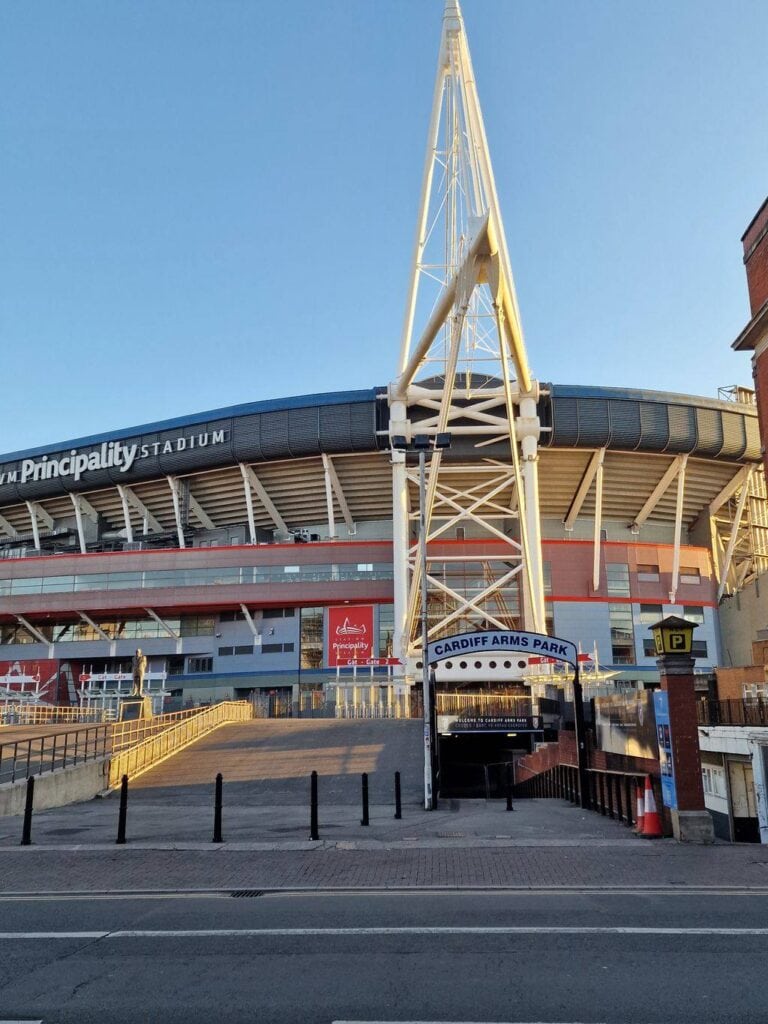 Great day trips from Cardiff
If you're planning to use Cardiff as a base for you to explore the surrounding area, there are plenty of beautiful places to experience, from the breathtaking inland mountains of the Brecon Beacons National Park, to the stunning Pembrokeshire Coastline.
Day tours are also a great option if you don't have your own car or are short on time but eager to see what else South Wales has to offer.
Gower Peninsula
Around 1 hour and 20 minutes drive west is the Gower Peninsula, a beautiful and often overlooked gem on the South coast of Wales.
There are stunning beaches such as Rhossili Beach, visit the famous Mumbles or find the unique Culver Hole and take a boat trip to discover the smuggling stories of this coastline.
This Gower Peninsula tour is the perfect option to see the Gower Peninsula if you don't have a car or are short on time.
The Brecon Beacons
Around 1 hour and 30 minutes from Cardiff is the Brecon Beacons National Park, full of mountains, walking trails, beautiful waterfalls, cycling routes and more.
If you would prefer to visit as part of a tour, check out this day trip to Brecon Beacons from Cardiff day tour which also includes the Wye Valley.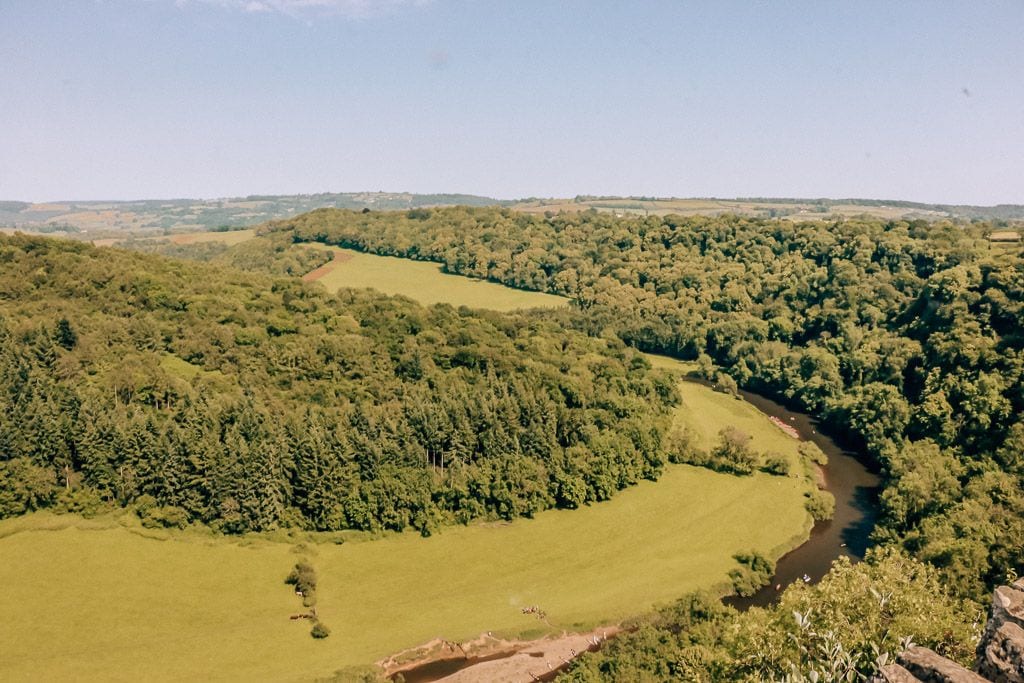 Summary: Cardiff one day trip
Hopefully this guide has given you some ideas for your Cardiff itinerary and how to spend a day in Cardiff, Wales.
There is so much more to see in the city, that an extra day or two would be great to really do it justice, perhaps take a walking tour or try out a few more cafes and restaurants along the way.
Pin to save it for later to help you plan your future trip!